Export Selected To OBJ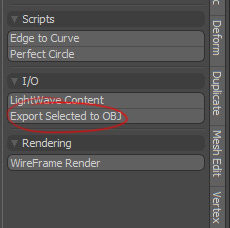 This Python script for Modo exports the selected layer or layers of geometry to an OBJ file.
I use this to quickly bring out layers as separate OBJ files so I can get them into ZBrush as SubTools. Maybe GoZ will render this script useless for me when GoZ is finally released for the Windows platform - I don't know, but until then this script is saving me quite some time in my daily work.
Usage
For simplicity you can assign the script to a button for easy access to it. Like in the screenshot to the right.
And that's pretty much it - selected the layer you need to export, click the button and enter a filename for your OBJ export and you're done.
Hope some of you find this script useful.
Download
Available downloads for Export Selected To OBJ.
Latest Release
Installation
Copy the js_exportSelectedToObj.py file to Modo user scripts folder. In Windows Vista you find it here:
C:\Users\<user name>\AppData\Roaming\Luxology\Scripts\
Compability
Export Selected To OBJ has been tested with modo 401.
Changelog
The development history of Export Selected To OBJ.
Version 1.0 - 30 Sep 2009
Export Selected To OBJ

Initial Release

Sep 30, 2009

Latest Release

Sep 30, 2009

Host

Modo

Operating System

Cross-platform

Language

Python

Links