Here we go, four templates for filmmaking to be used with Penultimate on the iPad.
I've probably tried most handwriting apps for the iPad that I've come across, and so far has Penultimate remained my favorite. Stu Maschwitz' blog post about Storyboarding on the iPad wet my appetite to make a few templates on my own to use in my production. I've made iPad versions based on some old PDF's I've been using in the past to print out and draw on. But hey, in this day and age with pads we try to leave the physical papers out of the loop.
This is my first iteration of filmmaking papers for the iPad so they are not production tested yet. They are freshly squeezed today in other words. I guess after I've been using these myself for a few weeks I'll have a better idea how well these will work out and if I need to make any adjustments or tweaks to get better use out of them.
I also have the hope that by sharing my shotplan and storyboard templates I might get some ideas or suggestions for improvements in return. If you download and try these out and have any thoughts of how to make them work better, feel free to share them with me by leaving feedback in the comments below.
Shotplan
The shotplan is of course aimed towards CG and VFX work. This form was originally aimed to be printed on an A4 paper so the iPad version is a bit tighter. If it turns out that the iPad screen is a bit to small to note down all this information on one page, I'll have to trim down the number of fields a bit. I use a Wacom Bamboo Pen for the iPad which really helps with the precision when writing and drawing.
As I've had and worked with this shotplan for quite some years, I'm probably going to rethink if I can optimize it a bit and modernize some fields – which would help to also trim it down a bit and gain some more breathing space. I want to use it a bit first though to see how the size works before spending time finetuning it.
Storyboard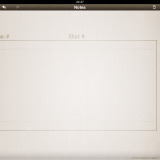 And then we have the three storyboard templates to choose from.
The storyboard templates are in the aspect ration of 1.85:1 with an extra dashed aspect ratio of 2.40:1 added discreetly in the background. I personally work mainly in aspect ratios around 1.85:1 at the moment so I decided to go with that as the main ratio on these templates.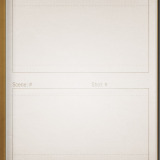 I designed two of them to be used with the iPad held horizontally and one to be held vertically. The vertical one contains 2 frames (V2F =  Vertical 2 Frames). And the horizontal ones are 1 frame (H1F) and 4 frames (H4F). There's also space reserved for noting Scene and Shot numbers.
I debated with myself about adding a line or two below the framed box to be able to write a short comment but I thought that looked a bit tight. A comment can be written below the frame anyway if needed.
Download & Install
The simplest way to install these templates in your Penultimate app as far as I know is to grab the archive provided in the link below and unpack it to your Dropbox. From your Dropbox app on the iPad you can then open the files and it should ask you if you want to open them in Penultimate. And by doing that they are installed.
Download the Penultimate Storyboard & Shotplan Templates
I hope you get some use and mileage out of these.
Cheers,
Johan